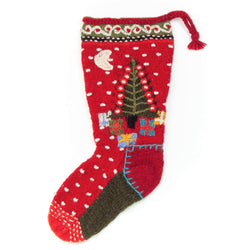 What better way to celebrate the festive season than with decorations that give back to communities in Nepal? Our exclusive range of colorful Christmas stockings are hand-knit and embroidered by the same talented artisans who make our woolly wearables.
Size is approximately 13 inches from heel to the top of the stocking and 9 inches from heel to the tip of the toe. the width is about 7 inches at the opening.  
One size fits most of what Santa has to offer!
100% wool

Handmade in Nepal

Fair Trade Federation Member

Dry clean/hand-wash only
What People Are Saying
"Lost Horizons exceeded my expectations and I will be ordering more!"
"Great quality! You can feel that the product is handmade."
"This really is a work of art."
"It's warm and it's stylish. It's comfortable and unique."
Thousands of happy customers since 1993!
Lost Horizons is a collection of hand-knitted and embroidered winter accessories made from 100% pure New Zealand wool. Our apparel is designed in Canada and made in partnership with local artisans in Nepal since 1993. We're best-known for our sweaters—but Lost Horizons is so much more. We also make skirts, mittens, beanies, bags and other accessories—everything you need to stay warm in winter.
Lost Horizons has been an accredited Member of the 
Fair Trade Federation
 since 2007. Our holistic approach to Fair Trade ensures everyone involved in our business—from our artisans in Nepal, to our Canadian team members, to our customers around the world—is treated with respect and paid fairly. Our products are exclusively made from natural and sustainable materials. 
Beautiful homemade look
I ordered five different styles of these stockings. They are beautiful they arrived promptly. They appear to be very well-made. I look forward to enjoying them for many years to come.
One was a couple of inches smaller but I still love them!